@NGED : The Arab Network for Gender and Development
@NGED is a regional network.
Established in 2002.
Funded by the World Bank's Development Grant Facility (DGF), in addition to supplementary funds committed by other donors to cover some of its activities.
Its membership consists of research centers, governmental institutions, NGOs, regional and international organizations, journalists, media professionals, trainers, experts, Researchers and pparliamentarians from 20 Arab Countries (Algeria, Bahrain, Egypt, Djibouti, Iraq, Jordan, Kuwait, Lebanon, Libya, Mauritania, Morocco, Saudi Arabia, Sudan, Sultanate Oman, Syria, Tunis, Qatar, the United Arab Emirates, and Yemen).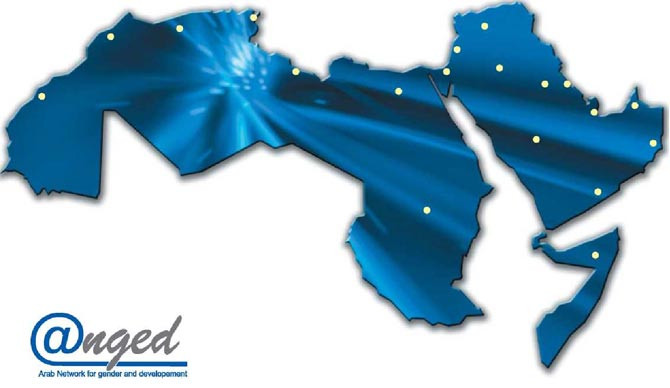 Why @nged ?
A space for multifaceted policy-oriented activities: research, training and information sharing and policy dialogue.
A voice advocating policy recommendations in relation to gender and development in Arab region.
A pillar of CAWTAR's networking program and contributes to CAWTAR's international and regional partnership programs.
A vehicle ensuring outreach and dissemination of CAWTAR's periodical Arab Women Development Reports, which are considered as catalyst for dialogue over policy, change.
A source for its membership to learn and share through capacity building programs, research projects and partnerships.
Objectives
Mobilize regional expertise and resources to address priorities in the field of gender and development
Advocate embracement of robust analytical base in policy making and advancement of gender equality through media
Contribute to formulation of policy recommendations in context of Arab region
Promote findings of regional policy-oriented research including CAWTAR Arab Women Development Reports in the international, regional and national levels
Provide a unique space for dialogue on gender issues.
Themes
Focuses on topics covered by CAWTAR Arab Women Development Reports:
Arab Women in Economic Sphere
Arab Women and decision-making
Arab Adolescent Girl
Arab Women and the media
Arab Women and legislation
Mechanisms
Annual Meetings for members to dialogue, plan activities, attract new members
Research Competitions/ Publications to contribute to regional knowledge
Community of Practice to keep abreast of and reflect to new developments
The Media to advocate and sensitize decision-makers and the community
National correspondents to ensure outreach and measurable impact of activities
Training to acquire essential tools to effectively manage programs
Information Wealth
In-depth studies on topics covered by Arab Women Development Reports
Annual meetings presentations
Consultancies
Surveys and scientific data
Best practices
Training materials in the fields of adolescence and media
Media materials and Press articles
National reports and Studies to enrich Arab Women Development Reports
Communication
A multimedia website (to be launched)
Directories of experts and institutions
Spin off Networks
Media Network
Arab Adolescent Network
Gender and Globalization Network
Regional Network for Arab Women and Local Governance
Regional Network for Combating Violence against Women
National Correspondents
Members represent @NGED in their respective countries and provide information for CAWTAR and its partners.
Synergies and Contributions
@NGED's Synergies and Contributions to International Regional Initiatives include:
Shadow Report, UNIFEM/UNFPA/CAWTAR, presented in Beijing .10.
Follow-up on World Bank Reports in Algeria, Morocco and Tunisia
UNIFEM/CAWTAR Arab Women Media Watch
Memorandum of Understandings with Yemen, Lebanon, and Libya
Membership
Members are supported by CAWTAR to attend @NGED's Annual Meeting. They benefit fiom the Center's projects, training programs and partnerships.
Membership is open to individuals, institutions and organizations who share vision of the network in approaching issues of gender and development and who are particularly interested to contribute to @nged's activities.
Fees of Membership
Individual Membership $60 per annum
Institutional Membership $100 per annum
Evaluation of the Arab Network for Social Diversity and Development